IBVPN.com IPhone Review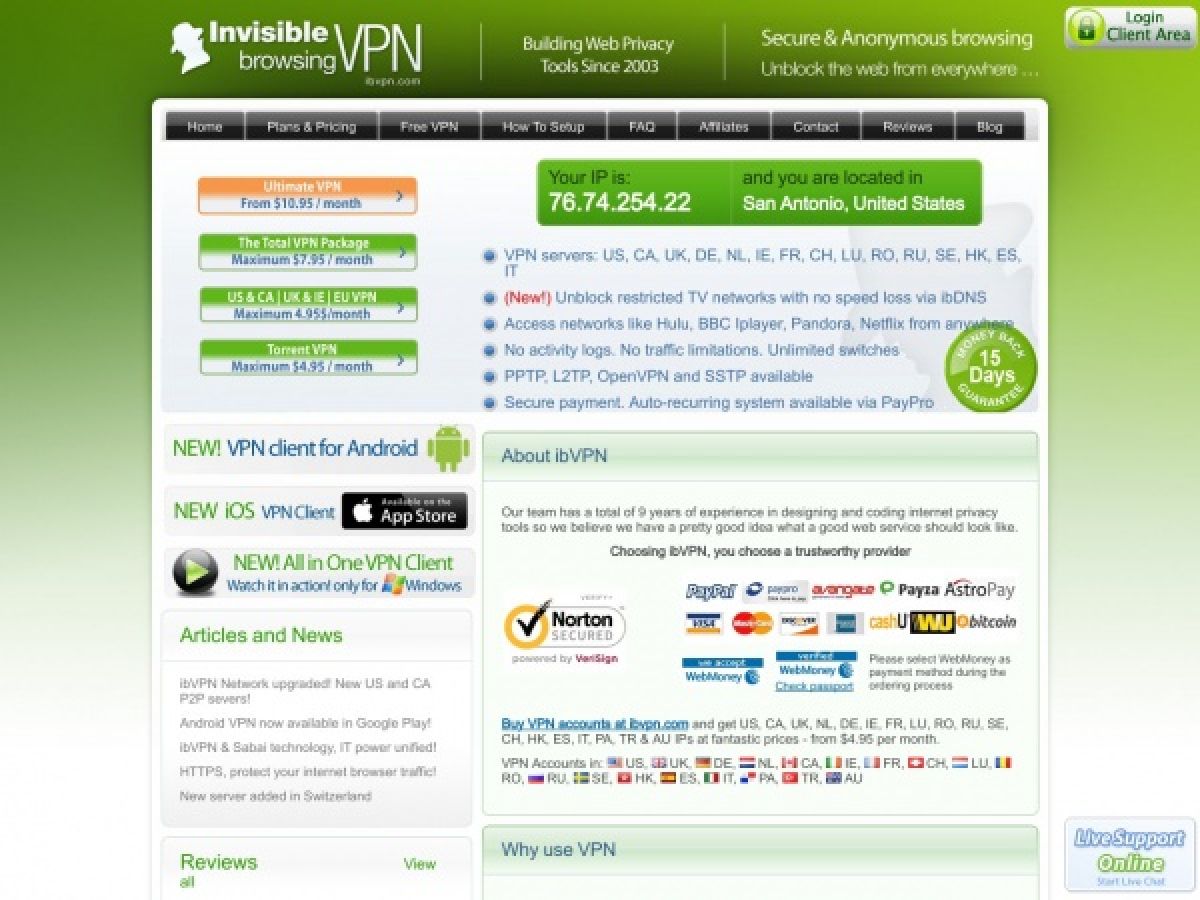 Invisible Browsing VPN, generally shortened to ibVPN, is a Virtual Private Network service based out of Romania and operated by Amplusnet. The team behind ibVPN have been creating web security solutions since 2003 and their VPN service was officially launched in 2010.
In the years since its launch, ibVPN has emerged as one of the industry leaders, having catered for more than 500,000 customers all around the world. The service currently operates more than 80 servers, spread across 35 different countries and is able to offer in excess of 2,500 static or dynamic IP addresses.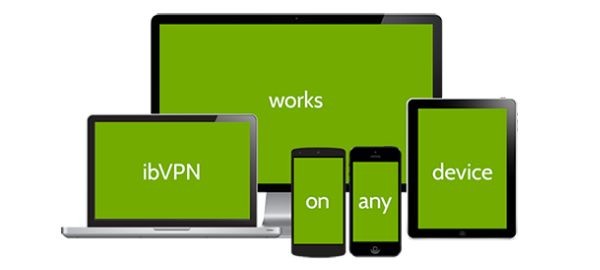 How VPN Works
In simple terms, ibVPN acts as an encrypted tunnel, connecting your iPhone to a server located in another part of the world. It obscures a device's IP address and gives it a new one, effectively hiding the user's location in the process. This, in turn, makes the user anonymous when visiting websites, downloading files or using online apps.
Additional benefits include protection from a variety of security threats, including third party tracking, as well as the ability to access region-restricted content. As an example, Netflix users can connect to a server in another part of the world and access the films and television shows available in that region instead.

The Service
With regards to iOS compatibility, ibVPN offers a dedicated iPhone app, as well as manual setup tutorials. The recommended OpenVPN encryption protocol is supported, as are the faster, but less secure L2TP and PPTP methods. Simultaneous connections are also possible, with client software offered for Windows, Mac OSX and Android.
Although some user logs are stored, the company's logging policy is transparent and does not consist of snooping on actual online activity, such as website visits. However, it is worth noting that logs of the date, time, location and duration of the VPN connection, as well as the amount bandwidth used, are kept for a total of seven days.

Price and Payment Methods
Multiple different subscription packages are available from ibVPN, but the most popular package is called 'Total VPN' and is available for $7.95 per month. The most comprehensive package, known as 'Ultimate VPN', includes a Smart DNS service and costs $10.95 per month. Discounts are available for long term subscriptions.

Customers have a huge range of payment methods available to them, including Visa, Mastercard, American Express, Maestro, PayPal, CashU and WebMoney. Bitcoin is accepted, allowing for anonymous payment, while users can also choose to pay via SMS or phone order. You can get bitcoin anonymously by buying it on a bitcoin exchange or by gambling, for example playing bitcoin poker on your iphone.

IBVPN iPhone Setup
1. Go to the 'App Store', search for "ibvpn" and download the ibVPN-Unlimited VPN app.
2. Start the app and either click 'Register' and sign up for a new account, or click 'Login' and use your existing ibVPN account details.
3. From the main menu, select 'VPN Setup' and then tap 'Start Auto Setup'. The app will then download the relevant configuration files for all of the available ibVPN servers. Alternatively, go back to the main menu, click on 'My Servers' and choose the server you wish to connect to.
4. Once the automatic setup process is complete, go to the 'Settings' menu on your iPhone and then click 'VPN'.
5. To complete the setup process, select the VPN profile of your choice and switch the 'VPN' setting to 'ON'.
Additional information on the ibVPN iOS app can be found by clicking here.
If you find that you are unable to make use of the app on your iPhone, manual setup tutorials for PPTP and L2TP encryption methods are also available.
IBVPN iOs Client Interface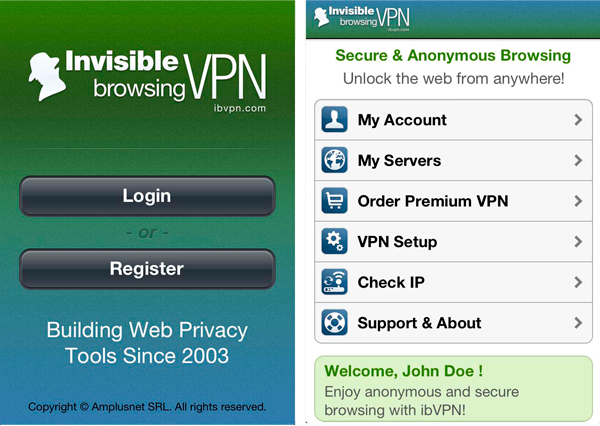 Go to ibvpn.com